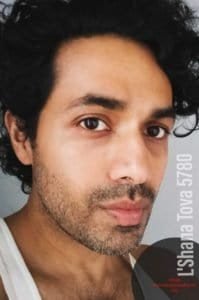 INTRODUCTION:
"The lotus blooms best in the muddiest of waters. So, arise by that which we fall" states Anand Jon, whose evolution and odyssey to freedom has fascinated the world.
An award-winning Artist, rising star in the high fashion world, Anand Jon Alexander's meteoric success was detoured upon being falsely accused by a collusion of scorned women admittedly nefarious motives of publicity and money. Falsely accused of assault related crimes, there was not one piece of physical evidence presented against Anand Jon, not a single scratch on any of the complainants, or any reliable corroborating evidence.[1] Anand Jon was subsequently wrongfully convicted and sentenced to prison for an astonishing 59 years to life based a 2008 Los Angeles trial rampant with false evidence, false testimony, due process violations, police misconduct, and racist xenophobia.
            However, this chapter was far from over as an epic story had just begun. By mid-2018, Anand Jon had reinvented and resurrected himself and presented his case with tremendous favorable changes of circumstances, including successfully resolving a plethora of overlapping and outstanding cases in New York (49 counts) and Texas (5 counts). Furthermore, newly discovered and previously withheld evidence of factual innocence, and a litany of new laws that compels relief, have changed the landscape of Anand Jon's case, all of which has galvanized a movement against such wrongful convictions (see https://anandjon.org/the -case/).[2]
            While steadily progressing towards his freedom, he has taken the world by storm, transforming crisis into extraordinary opportunity for many.[3] Despite a whirlwind of challenging
__________________________
[1] The only accuser who even bothered to get a medical examination submitted to a "rape kit" that confirmed there was "NO ASSAULT RELATED FINDINGS." Anand Jon voluntarily took and passed a lie detector/polygraph test to further prove his innocence. Not only have some complainants recanted but Witnesses have even admitted not being truthful and or exaggerating they're virgins under pressure from third parties including law enforcement in order to get revenge money and publicity.
[2] http://www.indialife.us/m/article.php?id=99457 , http://m.digitaljournal.com/pr/4019875
True to form, in a brief rare interview from New York jail, upon having successfully resolved his New York case Anand expressed forgiveness for his false accuser and noted how "The truth would surface…my culture created the Kama Sutra…Sex is not something that intimidates me." (Colleen Long, Associated Press, April 2013). He admits the "immoral" lifestyles while reiterating how this is a far cry from anything "unlawful." 
[3] Despite over a decade of hard-core incarceration (L.A. County Jail, Riker's Island, Federal, and currently in California D.O. C.), Anand Jon continues to evolve & excel. He devotes his time to various constructive self-help and mastery programs, including legal studies, co-facilitating prison yoga, and meditation workshops, which led to the "Awakenings Initiative" to educate, train, and develop career paths for successful and expeditious reintegration of prisoners back into society as assets, rather than liabilities. Furthermore, Anand Jon's intense poetic verses have received so much interest that Anand became a self- taught musician and has composed original music as part of R.J. Donovan Prison's music program. He completed educational and vocational programs, including computer literacy, received his G.E.D., participated in various artistic endeavors (projectpaint.org), and is currently writing his highly anticipated book. Moreover, Anand Jon (alongside his mother and sister (www.sanjanajon.org ) continues to support The Aids Awareness Initiative in India and the www.puppylovesanctuary.org saving abused street dogs, among other animals.
elements, Anand Jon Alexander is not strictly bound as "AB1337…property of the state." If anything, this innocent man is resilience embodied and the antithesis of the typical indoctrinated prisoner or slave to any system. Even as he grew up in the tranquil backwaters of Kerala, India, Anand Jon was known as a shy wunderkind. His astonishing artwork, celebrating sensual spirituality as inspired from the sacred sensuality, temples of his culture, garnered attention and awards nationwide. He became a proficient national ranked tennis player (sub-juniors) but gave it up to focus on his true passion.
            Anand Jon descends from a close-knit family of revolutionary scholars and freedom fighters who embraced Gandhi's policy of "Ahimsa" (nonviolent resistance) to liberate the people from imperial divide and conquer colonialism. This strategic, benevolent use of energy originating from the Atharva Veda, (Upanishad) doctrine to not cause harm or pain to live sentient beings. This true son of India, who became the proverbial "American Dream" is now overcoming its dark side, as a symbol for a modern-day revolution against injustice and abuse of power. 
            Under the tutelage of master artisans, his grandmother Ammini Abraham, and his uncle, music legend Dr K.J. Yesudas (2017 Padmabhushan honoree musician/ humanitarian), Anand Jon's artistic foundation was interwoven with his metaphysical-yogic heritage. At age 13, Anand Jon moved from Cochin, India to the Metropolitan Madras (now Chennai), India, to attend the prestigious P.S.B.B. (Padma Seshadri Bala Bhavan) then graduated from the Jesuit St. Michael's Academy & Loyola. His early teenage romantic trysts coincided with the 1990's sudden westernization, technology boom, and sexual awakening of the Indian sub-continent. Anand Jon acknowledges how his unexpectedly profound first love, and subsequent break up, impacted the rest of his life with a flavor for "passion and femme fatalism.".
            At the tender age of 16, Anand Jon began his American odyssey by obtaining a scholarship to the acclaimed Art Institute of Fort Lauderdale (1991-1993), where he graduated as valedictorian. Thereafter, he received a scholarship to the prestigious Parsons School of Design, New School for Social Research, NYC (1994-1998), where he was awarded to the honor roll. Anand Jon's fine art paintings and unique jewelry received much critical acclaim and was showcased at the New York Art Academy and Christie's Auction House, sponsored and adorned by the "Who's Who" of high society, royalty, and celebrity. As Parson's Associate Dean, Tim Gunn (TV's Project Runway) recommendation letter correctly heralded:
____________________________________________
"Anand Jon is a visionary and a leader…All of us have great expectations of him"
____________________________________________
Anand Jon's introduction to the high fashion universe began upon meeting world renowned fashion designer Gianni Versace and musician Prince in the Miami party scene. Soon, NYC nightlife became his training ground. He was immersed among the vibrant trendsetters of New York City, the Hamptons, and other luxury markets, many of whom became clients and supporters, friends, and sometimes more. It was an era of supermodels being ousted by the brigade of "It girls."[1] International royalty and young socialites, most of who made their debuts on Anand Jon's runways and at his events. This was a new world of social media savvy entertainment branding and fashion where the personal and the professional, intertwined. A strategically "leaked" sex tape and scandals would be the fuel to launch
______________________
[4] Including his high-profile friends like Ivanka Trump, Amanda Hearst, Lydia Hearst, Paris Hilton, Nicky Hilton, Michelle Rodriguez, Hannah Bronfman, and Elizabeth Jagger.
billion-dollar brand names to come. This was a generation that was taught that controversy and sex scandals get rewarded.
            Besides being the first Indian to debut at the 2006 New York Fashion Week, the Anand Jon collections[5] were hailed as "Functional Luxury" by Women's Wear Daily as it broke the mold with an unprecedented "Indo chic" amalgam between the East and the West, as well as between technology and spirituality. Sharon Waxman wrote in the New York Times  "If you were a wannabe, [Anand Jon] was a great coattail to ride on," stated Catherine Sexton, NY fashion insider.[2] In fact, none other than Giorgio Armani gave his patronage by sponsoring and further catapulting the Anand Jon brand internationally.
            In addition to winning numerous awards and accolades[7] for his sensual "Kama Sutra" infused Indo-chic creations, Anand Jon's personality brand began to gain popularity. He appeared on several TV shows, including America's Next Top Model, VH1, and hosted MTV Asia Style Check. He was on the list of everything from "The 50 most beautiful Indians," to Newsweek magazine's 2004's "Power and Influence" list and was featured by Newsweek in their "Who's Next in 2007?" issue.[8] Besides being credited (or even blamed) for pioneering the "It Girl" phenomena, including high profile debuts of his friends, clients, and muses, Anand Jon's signature "Sex on The Runway"' (NY1 News) sensual creations transcended generational and cultural gaps. His vision translated Indian tradition into "cosmopolitan chic" for the sophisticated masses.[9] The exotica edginess, who he dated and partied with, became celebrity gossip fodder and sometimes attracting those who wanted to use him for personal gain. His own personal "celebrity" status & dating life with Hollywood starlets and high society began to compete with and sometimes overshadow his genuine talent. It also made him a ripe target. 
            By February 2007, Mr. Alexander had just launched his highly anticipated prêt-à–porter Wall Street financed "Jeanisis" jeans line which took center stage at MAGIC (Las Vegas) and was scheduled to headline Los Angeles Fashion Week (March 2007). Unfortunately, with big money came very big problems.
[5] https://anandjon.org/the-house-of-anand-jon/ www.ANANDJON.net
[6] The Designer Who Liked Models, April 15, 2007, New York Times by Sharon Waxman) https://www.nytimes.com/2007/04/15/fashion/15anand.html
[7] Described as "one of the most influential Asians in the world, perhaps the most outlandish…styled not just his clothes, but himself as the perfect fusion of east and west." Anand Jon would have given gurus like Deepak Chopra a run for their money his strategic self-exoticization one him numerous Awards and made him one of the most successful Indians in the world" THE BEAUTIFUL GENERATION (2011) book by Prof Thuy Linh Nguyen of New York University. Oprah Winfrey and supermodel Jerry Hall selected Anand Jon as one of the best designers of the next millennium. New York Mayor Rudy Giuliani NYC 2000 featured Anand Jon as one of the top designers in the world. Fashion Week of the Americas (2001) presented Anand Jon with the "Rising Star" award.
[8] https://www.newsweek.com/anand-jon-105497 .
[9] As the speaker at the Asia Society Conference in Beverly Hills "the charismatic 31-year old teases a room full of investment bankers at the Beverly Hilton Hotel. With his long locks pulled into a ponytail and the top buttons of his black shirt undone, Jon resembles a flirt, already thinking about the next hot party. But this morning, Jon is all business — his apparel business to be exact. He is leading a conference for the Asia Society about the success of his culturally-charged fashion designs — the kind of success no one would have expected from an Indian designer fifteen years ago…Today, however, Jon and India's other latest and greatest designers have found their way onto the prestigious runways and upscale retailers of New York, London.. these designers have translated Indian tradition into cosmopolitan chic for the sophisticated and fashionable masses…This "bad boy" decided to shake things up and collide American youth culture with Indian chic. A "cultural exchange," Jon turned saris into sexy modern evening wear and kameezes (Indian tunic) into revealing tops paired with hot pants and knee-high boots." https://www.international.ucla.edu/asia/article/59582
It is no coincidence that upon approaching global success, this American dream was hacked and highjacked that quickly morphed into a scandalous nightmare.[10]
            Anand Jon's Los Angeles jury trial (2008) was a virtual 3-ring circus rampant with ethical, moral, and legal errors, due process violations created and perpetuated by the prosecution and Anand Jon's own defense team. Furthermore, even though jury deliberations were rampant with anomalies and they were deadlocked for almost 2 weeks, they returned with a mixed verdict (not guilty – guilty – hung). Additionally, despite juror misconduct being declared and prejudice presumed, the trial judge stated how the court was "troubled…not happy with the way the [prosecutors] handled this case." Even at sentencing, the court acknowledged that there were several outstanding unresolved due process issues and if and when the suspected due process violations were later substantiated, Mr. Alexander would be brought back for a new trial. Nonetheless, a new trial was denied.
            Since his tainted Los Angeles trial and wrongful conviction, Anand Jon has favorably resolved all outstanding out of state cases that were pending against him and successfully forced the Beverly Hills Police Department to turn over Brady evidence of his factual innocence. Anand Jon is now progressing towards his freedom via the Federal courts. Currently pending at the Federal District Court in California, Anand Jon is seeking relief based on this newly discovered and previously withheld evidence of factual innocence, as well as due process violations that include despicable prosecutorial misconduct invoking racial bias and use of false evidence.
            True to form, Anand Jon continues to learn, forgive, create, evolve through these trials , tribulations and celebrations. While his case makes progress towards his freedom, the REFORM-A-NATION campaign led by highly influential community leaders, businessman, exonerees, activists, politicians, and organizations, alongside a community panel, is simultaneously urging California Governor Gavin Newsom to, at the very least, commute Anand Jon's unjust and inapposite sentence. Furthermore, Anand Jon's cause continues to be presented at social and community awareness events, such as the UCLA "Call to End Mass Incarceration" April 2019 (www.calltoactionucla.com), connecting art and law.[11]
__________________________
[10]  Unbeknownst to Anand Jon, a group of disgruntled young women and business associates had set out to file a group civil lawsuit to create and exploit celebrity scandal for publicity and to sell media stories. Regret rapidly made way for revenge and racism. Under nefarious third-party influences, including corrupt police, the accusations escalated into criminal allegations and the agenda became to "trick and trap" Anand Jon. They secretly plotted to get the "brown dick sand nigger locked up…shipped back to India." The combination of Anand Jon's exotica, the celebrities he was dressing, along with the hedonism of the seductive fashion/entertainment world created a ripple effect. Regardless of whether these women harbored unrealistic expectations of fame and fortune or if Anand Jon made promises upon which he could not deliver, the inescapable fact remains that the elements of any criminal intent/conduct, force, violence or duress were non-existent.
[11] Anand Jon's portrait of Mahatma Gandhi, donated by projectpaint.org, was featured at the UCLA festival "Call to End Mass Incarceration" (www.calltoactionucla.com), http://www.indialife.us/m/article.php?id=114460; http://politictalks.com/24-7-politic-press-release/california-welcomes-reform-a-nation-campaign-to-reverse-wrongful-convictions-and-ucla-law-schools-call-to-end-mass-incarceration/
"The Art From the Inside" (Call to End Mass Incarceration, UCLA, 2019 booklet featured Anand Jon's quote: "Growing up in India, I was a bit awkward about acknowledging Gandhi as a "role model" because he did not represent the cool alpha male six-packed, buffed "Heroes" (Rambo, Terminator, Rocky) that was popular culture. However, when I was wrongfully convicted and struggled to get back on my feet and slowly made progress towards freedom – it was Mahatma Gandhi's "AHISMA" (passive resistance), Satya Graha (soul force), and strategic, patient dismantling of the Greatest/Colonial Empire in the world that inspired me. I enforce that indomitable will … what is not just fighting and dying for but worth living for. [As Gandhi said] 'Even as a minority of one, the Truth is still the Truth'."
To volunteer, donate, get involved contact: