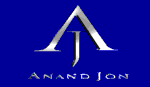 Spring 2006 Preview Collection
"ATOM & EVE" is the debut ready to wear line from Award winning House of Anand Jon shown Feb 8th 9pm at the exclusive and private club "Fizz" in NYC."Able to move between old and new worlds, they bring together the best of the East and the West. Here are a few people you should know about..." Says Newsweek Mar 2004, where Anand Jon, 28 is featured alongside Norah Jones, M Night Shyamalan as the next generation "Power & Influence list.Since his debut five years ago Anand Jon has consistently evolved into the gateway celebrity brand bridging an amalgam of the east and west bringing these two worlds together unlike anyone before.This family owned and operated brand has steadily ascended a core luxury following cultivating a who's who list of clients, supporters in Society, Young Royalty and Celebrities…Anand Jon created the INDO-CHIC and launched the careers of several "IT" girls who all debuted in his shows or on the red carpet.
His TV, Film projects expanding- following the success of his top rated segments on Americas Next Top Model with Tyra Banks and MTV Asia he was invited as the host of the first ever MTV Fashion awards Asia and now the co-host of the upcoming Hollywood life TV which began shooting at Sundance 06. Anand Jon was recently picked as "India's 50 most beautiful People" however his passion is to transform other people into the most beautiful they can be.Anand Jon developed a passion for metals & fabrics growing up in South India, under the tutelage of master artisans and his late Grandmother, one of the most influential women in his life.During these formative years, his deep involvement in the Yogic disciplines set a metaphysical yet playful flavor to all of his creations. "Functional Luxury" (says Women's Wear Daily) is an inherent trademark while sacred geometry is often an underlying structure.Anand Jon graduated from Parsons School of Designs, NYC, with majors in both Fashion Design & Communications (98) While still at school he had begun to experiment with the transition from fine art to fashion, showcasing limited edition adornments always exploring the oneness of things & various mediums.
After being selected on NYC 2000 show at times square Anand Jon was featured on the Oprah Winfrey show as the top looks for the Millennium.Besides Pioneering the "Indo Chic" revolution Mixing East and West seamlessly, into the mainstream Anand Jon is also know for being one of the pivotal creators of the IT girl Phenomenon. "VERSCACE created the Supermodels & Now Anand Jon created the "IT Girls". He's the FROCK STAR It's a Wrap!. Cathy Lee Jones, "Urban Socialite" Producer, Wu Tang Clan Franchise Owner.. Anand Jon began to introduce friends of his who have gone on to become some of the hottest "IT" girls in the world … Paris Hilton & Nicky Hilton,Lydia Hearst, Amanda Hearst, Michelle Rodriguez, Ivanka Trump, Elizabeth Jagger are some of those who made their debuts with Anand Jon on the red carpet or the runway which was highlighted in the A & E' TV show "American Royalty" and on WE Tv's "Young, Rich and Sexy". Besides these "IT Girls" a major following of Celebrity, Royalty and High Society supporters form Anand Jon s core base such as Eve, Mary J Blige, Alanis Morrissette, Prince, Princess Olivia of Spain, Princess Hussa and Princess Sarah Al Saud, Janet Jackson, Sen Hillary Clinton, Gloria Estefan, Lawrence Fishburne & Gina Torres, Mrs. Grace Hightower Robert DiNero, Nadja Swarovski, Dayssi Olarte De Kanavos, Anne Heche, Melanie Knauss Trump, Princess Eba, Princess Soraya, Jessica Alba, Janet Jackson.…
The inspiration behind this collection is a sign of the times- where technology and spirituality converge represented by the serpent, which shows up in the collection as hand painted medusas and embroideries. And unlike popular belief- it is a bearer of free will rather than a tree of life and tree of knowledge stand in the heart of the Garden of Eden. As a teenager Anand Jon would hand paint and destroy jeans growing up in Southern India and being from a prominent family neighbors and friends would look bewildered why anyone would deconstruct and rip up and hand paint garments?Who does not secretly love a little rebellion?
Years later as one of the most influential young style Icons in the world and having already established one of the "best kept secret" luxury houses catering to the who's who- Anand Jon sets out his first full ready to wear line AJ Jeans with a series of razor sharp denim items at the core of it. AJ Jeans: Japanese and Italian luxe denim mainly Dark tones for fall with form fitting mid hip rise and with both slender legs and with flattering boot flares in select items. Beides the signature embroideries and hand painting, the "Kiss my A…" campaign to be launched soon highlights the strategically positioned scarlet letter . The softest and highest quality cotton blend jersey looks open the collection with slinky shapes that contour the body. Highlighting the world renowned embroidery details Anand Jon exploded onto the scene with the Jeans pick up some of those details and mix high luxury items with casual wearable delicates.
Also showcasing a sneak peek of A-Men by Anand Jon: having dressed the liked of friends and celebrities including Bruce Springsteen, Michael Clark Duncan, Rob Thomas, Prince.The evening wear highlights what Anand Jon is best known for- sexy sensual feminine items that compliment the bodies of not just model types but real women too. The couture and evening gowns shimmer in touches of embroidery on French laces and heavy weight chamouse silks in Midnight blue hues, Rusk and translucent metallic ores. Also the finale is a sneak peek of Altar by Anand Jon the wedding line.