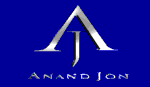 The much anticipated Fall 2K1 collection, "ACE", was unveiled during the February 2001 Fashion Week. NYC ballet dancers opened the show with a striking presentation, initiating a ferocious line up of entertainment, celebrities and clothing. The Collection presented Anand Jon's bold move to explore a more avant-garde direction (but retaining the essence of his unique styles) with razor sharp tailoring, leather, mohair and fur fusions, and a tongue-in-cheek sensuality that dazzled the audience. "ACE" proves that the passionate entropy of Anand Jon's elegant yet daring vision continues to blossom. "ACE"was inspired by the art and science of divination and incorporates observations of the patterns of nature, people and universal biorhythms. The collection draws from the textures, colors, and symbols of medieval sculpture, stained glass techniques, and phoenix iconography while the silhouettes contour meridian points on the human body.
Following "ACE", Anand Jon was profiled on CNN Financial News for the groundbreaking amalgamation of the interactive with the fashion world. Fox Network described him as "transcendental and the new-age rage". The show featured the best of the new generation and premiered as the first of its kind and magnitude at WWF Entertainment Center in Times Square (a fashion statement in itself) amidst huge media fanfare, critical acclaim and accolades from all dimensions of the fashion world.
The show featured Anand Jon's muses Actress Michelle Rodriguez (Girl Fight), Actress Izabella Miko (Coyote Ugly, Forsaken), Nbushe Wright (Blade), society super stars Paris and Nicky Hilton, Tia and Tamara Mowrey (TV's Sister Sister) rock band Collective Soul, Princess Olivia de Burbon of Spain and top supermodels on the runway, as well as an equally staggering compilation of powerhouses in the audience (actor Ashton Kutcher, Rob Thomas of Matchbox 20, Rocky Aoki and a bevy of top socialites, media and buyers). Metro's full frontal fashion 24 hour TV network sponsored Anand Jon's after party – among the hottest tickets in town for fashion week. NY–1's Gigi Stone reported the collection to be "as iconoclastic as ever" while Sara Nolen of Fashion Wire Daily spoke of "elegant pieces in luxurious fabrics that honor and celebrate the female form".