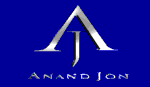 Feb. 4th 2005 Tsunami Relief Benefit Collection
THE TEMPEST ACT I. SCENE 1 : William Shakespeare
"On a ship at sea; a tempestuous noise of thunder and lightning heard"
(New York City, NY) Friday, February 4th 2005. Opening day of New York Fashion Week saw a packed house of the who's who at Christie's , Rockefeller Plaza to see the Anand Jon Fall 2005 Collection "ARIELLE". Loosely inspired by Shakespeare's Ariel, (a powerful air spirit commanded by a human to create the Tempest,) Anand Jon explores the dance and power struggle between man and nature with colors and textures based on the stormy seas and emotions. Featuring twilight blues, crimson reds, heavyweight double-sided fabrics, French laces, clear crystals, mermaid-fit trains with lace insets and panels, bias cuts and plunging necklines, fitted multi -seamed jackets, and gold hand-embroidery on tissue silks inspired by deep ocean algae peek out from under layers. Leather, a perennial favorite of the Anand Jon collections, is sliced and stripped into thick layers to replicate gills and Payette's run through the leather.
The A list guests were treated the first to see to "sneak peek" of Anand Jon's ready to wear AJ Jeans lines, AJ Jean Ohm (pronounced "Genome") and AJ Jeanisis (Genesis) that feature dark, Japanese selvage denim, Italian denims and low-waisted cuts. Layers on the jeans slide on and off to form individual items – one style has a layer that slides off the leg to create an impromptu accessory bag (part of AJ Accessories with UCCLE designs sleek handbags and adornments) While collaborating with Psiclops on Art direction and Sanjana, (Anand's sister who's own line is coming out ) on styling the collection. Anand Jon Jeans have signature red thread and some of them the Scarlet Letter "A" on the back pocket. The AJ Jeans lines teaser, which the guests gushed in excitement over is scheduled to debut at the end of the year as part of the designer's official launch into the ready to wear world.
Guests included Senator Hillary Clinton( who was a Keynote speakers for the Amba Project ) & Shashi Tharoor (United Nations undersecretary), Grace Hightower (Mrs Robert De Niro), Supermodel Nicky Tyler, Alexandra Kerry (daughter of John Kerry), Andrew Freston (Son of Viacom President Tom Freston), Jaimie Gleicher (MTV's Rich Girls), Erin Ralph (LuxeHouse.com) and many of NYC shimmering A-List were treated to a sleek collection starting with Denim and ending with lavish modern couture.
Anand Jon often credited as the "IT girl" maker – (having done media debut's of Elizabeth Jagger, Paris Hilton, Nicky Hilton, Amanda Hearst, Lydia Hearst, Marissa Bregman, Michelle Rodriguez and more) introduced Hannah Bronfman this season (Daughter of Edgar Bronfman who made her runway debut as the stunning finale – "a couture survivor of the storm", a one-sleeved jacket with pleated white chiffon encrusted with golden as fabrics roses in tissue slid down asymmetrically. On the men's fashions models included there Rocco DiSpirito (NBC's The Restaurant), Luigi Tadini and Manu Narayan (Lead of Bombay Dreams).
As in the Shakespeare Classic the process of struggle and suffering forms a romance. Performing these manipulations of nature Arielle earns his freedom. Meanwhile Dec 26th something happened that literally tied in with the themeSıFollowing the Tsunami Sıa Mega Tempest that ripped through South Asia on the Day After Christmas 2004- the world would never be the same again. A baptism of sorts had happened. Anand Jon, who grew up in South India, was provoked by the union following the stormSıone of the greatest disasters may be the gateway to a global unification processSıTHE AMBA PROJECT, a helping-hands global alliance of proactive individuals and organizations that are working together to raise awareness, gather together resources and funds to aid the victims of catastrophes. Anand Jon will be designing an homage collection to his heritage and designing a custom T-shirt "Rise Above" to support the AMBA Project in its support of Tsunami victim.