CHENNAI:, SEPTEMBER 17, 2011 02:26 IST UPDATED: SEPTEMBER 27, 2011 15:24 IST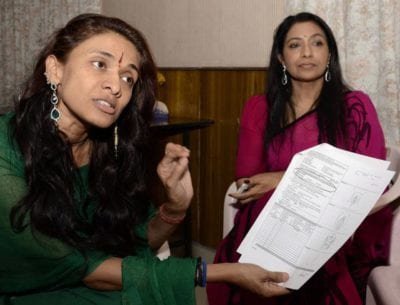 Sanjana Jon, sister of fashion designer Anand Jon, has sought the intervention of Tamil Nadu Chief Minister Jayalalithaa to free her brother who was sentenced in the United States to 59 years in prison for sexual assault. "I would love to see and ask her to look at the facts," said Ms. Jon, holding up of medical reports that have showed there were no findings of Anand Jon having raped Jessie.
Anand Jon was arrested in March 2007 in a sexual assault case and convicted and sentenced in November 2009 to 59-year imprisonment by a U.S. court.
Ms. Sanjana Jon and her mother Sashi Abraham organised a support meet 'Help Freedom of Anand Jon' here on Friday asking for justice. "This is a movement. I want the truth to be known. Injustice has been done to my brother," said Ms. Jon.
The family members have been getting support from people of Chennai as Anand did much of his schooling in the city. "A lot of people have seen him growing up in the city. Two people believing can make the difference," said Ms. Abraham.
Ms. Jon said that the family wants Anand to be brought either on extradition or on prisoner exchange treaty to India. "We are not going to get justice through the legal system. Our request to the government is to either use extradition or prisoner exchange treaty in this case," she said.
"This is about every NRI who can get entrapped and we are only asking for justice." Actor-director Suhasini Manirathnam, actor Poornima Jayaram, playback singer Vijay Yesudas, M.B. Nirmal of Exnora and dean and director of PSBB Group of Schools Y.G. Parthasarathy were present.